Dynamic Careers in China
With a presence in 15 cities across China, Evonik offers multiple career paths in the world's most populated country.
A GLIMPSE AT EVONIK IN CHINA
Evonik started operations in China in the 1930s by opening a representative office in Shanghai and has since grown to around 2,700 employees and 12 production sites across the country. Working in one of our sites in China definitely presents an exciting opportunity to have a career in one of our most dynamic locations.
Evonik regards people as the most important asset for sustainable growth. Wherever possible, we aim to fill key positions with highly qualified local managers and offer them attractive career opportunities within the Group. Evonik has been awarded one of "China's Top Employers" by the international publishing company Top Employers Institute a number of times since 2007.
Shanghai Innovation Park Site tour
Maggie Lu, Regional Business Line Head, Asia Pacific, Oil Additives in front of the Evonik offices in Shanghai, China.
Maggie: Are you looking for an opportunity to join a multinational company? Let's get to know Evonik.
Maggie: Evonik has been operating in China since the 1930s. To date, we have more than 27,000 employees and 16 production sites in China.
Maggie Lu inside Evonik Shanghai Innovation Park
Maggie: The Shanghai Innovation Park is one of Evonik's R&D core sites globally. This is the place we visit every day – the Michelin-starred restaurant in the mind of Evonik employees. Behind me is our R&D center, where around 500 researchers are currently working.
Ayumi Xu, Multinationals Business Manager, Care Solutions
Ayumi: As a leading global supplier of ingredients for the personal care industry, Evonik's products have already been widely applied in skin and hair care.
Ayumi: In addition to active ingredients such as ceramide and retinol, which are familiar to ingredient-driven consumers, we also have functional ingredients such as emollients and emulsifiers.
Ayumi: These are essential products for our business. We provide not only products but also system solutions, and our innovation lab functions as the designer for the solutions.
Lisa Wu, Head of Applied Innovation, Care Solutions, speaks inside the Evonik lab.
Lisa: Located in Shanghai, our innovation lab for personal care applications is able to serve major markets of China, Japan, and Korea.
Lisa: We dedicate ourselves to developing safe and sustainable cosmetic ingredients, designing innovative and effective formulations, and optimizing systematic solutions which include efficacy evaluation as a boost to cosmetic manufacturers to make you more and more beautiful.
Justin Lui, Business Manager, Oil Additives
Justin: Hello everyone. I am Justine, a salesperson from Oil Additives. It is a pleasure to show you our daily work.
Justin: This is Albert. He is testing lubricants for customers. This HE-0 Denison Pump Test Rig is the best of its kind in Asia.
Justin: The company has created an awesome work environment for us. During the breaks, the coffee corner is a nice place for chit-chat and relaxation.
Latham Li, Product Development Engineer, High Performance Polymers
Latham: Hello, I am Li Ang. Welcome to Evonik High Performance Polymers business line. Now, let's take a walk. It's lunch break. Some colleagues are playing billiards.
Latham: Although we are a chemical company, our products are much closer to life than you might think.
Latham: No matter for automotive pipelines, sports shoes, or medical devices, our high-performance plastics are indispensable.
Latham: It can be said that our products such as Nylon 12 are closely connected to everyone's life. Here are our 3D printing labs. We can make a variety of customized components through 3D printing.
Latham: Would you like to join a multinational company?
Latham, Maggie, Ayumi, Justin, and Lisa: Come join Evonik!
With a population of more than 1.4 billion people, China spans five geographical time zones and borders 14 countries including Japan, Korea, Malaysia, India, and Pakistan. Not only does China have the world's largest population, but it is also the world's third largest country covering an area of approximately 9.6 million square kilometers. The country consists of 23 provinces, five autonomous regions, four municipalities, and two Special Administrative Regions. 
Meet Evonik Team Members in China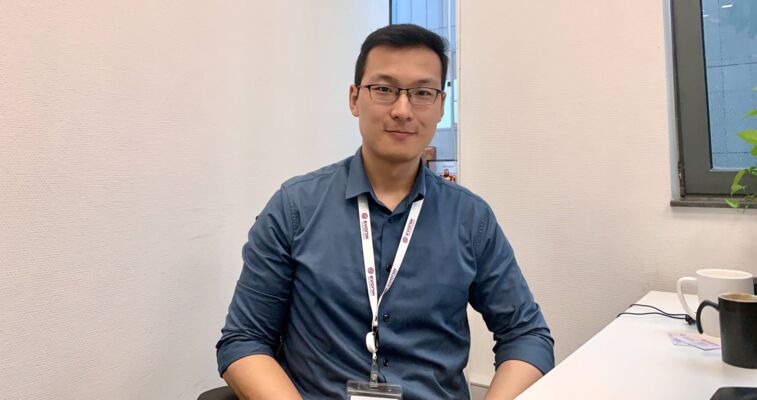 Meet the Team
Eric, Business Manager for High Performance Polymers 
Eric is passionate about the career opportunities he has experienced at Evonik after graduating from Tongjo University in China. Currently, he is responsible for the consumer product business of the high performance polymers line in Asia-Pacific and enjoys the great team spirit.   ... MORE
Jaiqi wanted to work for Evonik ever since he first came in touch with the company at his university campus in Germany, where he worked with Evonik products in his labs. ... MORE
Working at Evonik
Evonik aspires to have a leadership position beyond chemistry and to help make the world a better place. That means we must provide the highest possible benefit for the customer, and for society. And that means sustainability and resource conservation are critical factors in decision-making at every level of the organization. It's a tall ambition, and it's not easy. But with your experience, enthusiasm, and motivation, you can put your own mark on making this vision a reality.
WE ARE HIRING
Do you think that you may be the right candidate to complement our team? We are always in search of great people like you! Evonik offers many benefits, including work-from-home possibilities and a dynamic international environment. For more information about any program or jobs available at Evonik, explore our opportunities section or search our jobs.
You can also contact us directly or fill out our contact form.
Frequently Asked Questions
It is always a good idea to speak the local language of the country you plan to live and work in, and Mandarin is the official language in China. However, speaking Mandarin is not always required at Evonik since English is the main business communication language in all our locations.
All Evonik jobs are posted online in our jobs portal. You can browse through the jobs easily using many filtering options, including locations and job families.
Evonik has 12 production sites and multiple sales offices in China located in Shanghai, Beijing, Guangzhou, Chengdu, Jilin, Changchun, Liaoyang, Nanning, Nanping, Rizhao, Qingdao, Nanjing, Zhenjiang, Taiwan, and Hong Kong. 
Evonik is present in China with all its business lines and offers a variety of roles in the country, including engineering, research & development, sales & marketing, and administrative jobs. Evonik China also hires people at all career levels, from senior management to fresh graduates and interns. 
Relocation support depends on the individual case and the business requirements for the role that you are applying for. Please discuss the options with your hiring manager or a member of the talent acquisition team during your interview process.
You can contact our applicant helpline: 0800 2386645 or from outside Germany +49 201 177 4200 (Monday through Friday, 8:00 a.m. to 4:00 p.m.). Please send any technical questions to karriere-tech@evonik.com and describe the technical problem. Remember that applications sent to this address will not be considered in the application process. If you have problems opening the PDFs that are available for download on some of the pages, you need the newest Adobe Acrobat Reader or a PDF Reader.
Basically, in all segments, as well as in the service units, the Corporate Center, and at all sites throughout the world. We deploy interns in various projects and make use of their skills to develop and implement new topics. Based on the work of the company, we especially look for chemistry, engineering, and economics students. 
Most countries require a special visa if you are planning to work there. Our local site managers and their assistants can help you find out what the regulations are for their specific location.