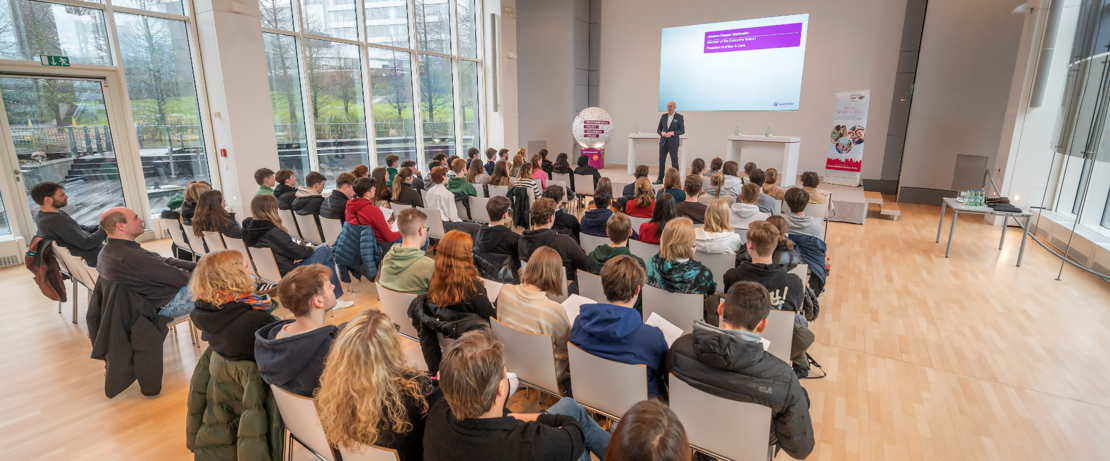 Career News
March 14, 2023
In dialogue with youth
For over 20 years, the so-called "dialogue with the youth" has been conducted in partnership with companies like Evonik to bring business into schools and provide students with the opportunity to learn about business, politics, and careers.
The "dialogue with the youth" has been an integral part of the educational work of the so called "TalentMetropole Ruhr" for over 20 years. Evonik has been involved for just as long. The aim of the dialogue is to bring business into schools and to get to know companies in the region. For this, senior classes from secondary schools visit the cooperating companies to talk to board members about business, politics and careers. This year, a total of 23 companies and about 1,600 young people from schools in the region are taking part in the dialogue series.
Evonik was a host again this year. As a member of the extended board, Johann-Caspar Gammelin welcomed 65 students from two senior classes of the schools "Neues Gymnasium Bochum" and "Gymnasium Essen-Werden" at the Evonik Campus in Essen and answered their questions. The range of topics was wide: questions about Johann-Caspar Gammelin's personal career, questions about the company, entry and career opportunities, and Evonik's corporate strategy interested the young people. In addition, two apprentices assisted this year as well and summarised the topic of apprenticeships and the everyday life of an apprentice in the Evonik Group for the students.
After the Q&A session, this year's event became interactive. In a playful way, the students got in contact with our corporate values "Speed", "Performance", "Openness" and "Trust". At the interactive SPEED station, for example, one group was able to test how agile, decisive, and responsive they are at the "hot wire".