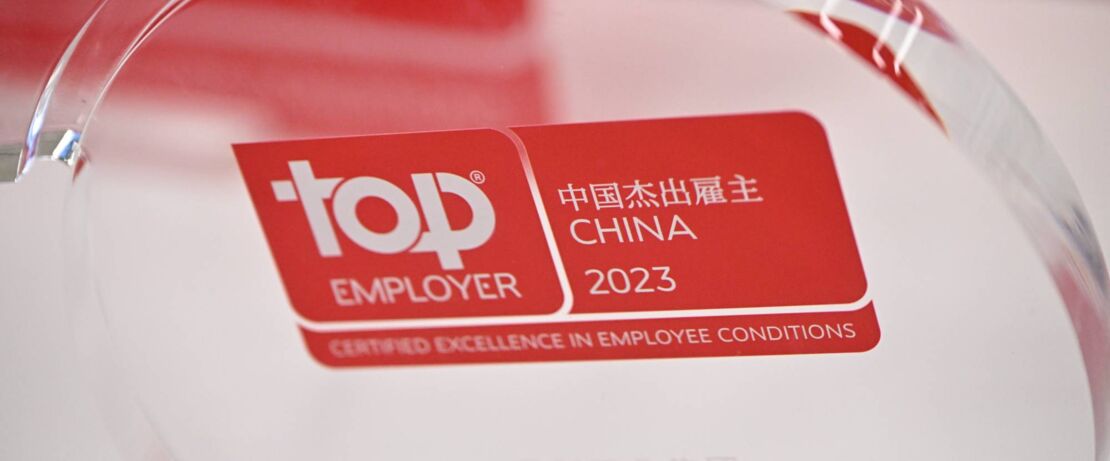 Career News
January 17, 2023
Evonik once again named Top 10 Employers in China
Evonik ranked among the top 10 in the certification of Top Employer China 2023 on January 17th. It was the 16th time for Evonik to receive this honor from Top Employers Institute.
The Top Employers Institute programme certifies organisations based on the participation and results of their HR Best Practices Survey. The certification standards in 2023 included a rigorous evaluation of HR domains: people strategy, work environment, talent acquisition, learning, diversity, equity & inclusion, wellbeing. Evonik was particularly convincing in the areas of Steer and Shape, including people strategy, digital HR, work environment and etc.
Evonik's continuous innovation to digitalizing talent management is one of the main reasons it stood out from the hundreds of companies. Digital tools such as communities (internal networking), Lily (on-line learning platform) and Workday (core HR management system)have enabled advanced and personalized talent attraction, retention and development experiences, supporting the colleagues to prepare for the future.
"At Evonik, the highly qualified and engaged workforce is one of the most important factors to drive the success of the organization," commented David Cheng, vice president, Human Resources, Asia Pacific North. "Evonik has been adopting diverse approaches and will continue to provide advanced platforms to empower our talent to unleash their strength and potential. We are glad that our efforts are recognized by the external market."
Besides being a Top Employer, Evonik was recognized by different institute or recruitment platform in China in the past year. The awards included 2022 Top Graduate Employers, Most Attractive Employer - Student Choice Award, Excellence in HR Digital, etc.                                                                                                                                                                               
About Top Employers Institute 
Top Employers Institute is the global authority on recognising excellence in People Practices. The institute aims to accelerate these practices to enrich the world of work. Through the Top Employers Institute Certification Programme, participating companies can be validated, certified, and recognised as an employer of choice. Established over 30 years ago, Top Employers Institute has certified 2 053 organisations in 121 countries/regions. These certified Top Employers positively impact the lives of over 9.5 million employees globally.