Meet the Team
November 23, 2022
Enes, one of our Logistics Management Trainees
Enes completes the trainee program Logistics Management for 18 months and gets to know different areas in Germany and Belgium.  In his story, he explains why he finds logistics so exciting, and why the trainee program was a good decision after graduation.
Enes is spending 18 months in the Logistics Management trainee program and is getting to know different divisions in Germany and Belgium. He is by no means new to Evonik. Indeed, he had already gained insights into the areas of Technical Service and Digitalisation from his time as both a working student and intern following his degree in Sales Engineering and Product Management. Today we want to learn more about his experiences as a trainee:
Enes, there's more to logistics than forklifts and warehouses - what do you find particularly exciting about the role of a trainee? 
For many, logistics is something that is very much in the background. But this is especially true for a specialty chemicals company with a wide variety of requirements and framework conditions where smooth processes are critical to its success. These processes need to be monitored, improved, and, wherever possible, digitalized. As a trainee, you have the opportunity to really get stuck in and, in some cases, take responsibility for projects.     
What I find particularly exciting about working in logistics is the combination of strategic work and operations. What is first planned on paper can later be seen in action. This way, you get to know all the services of the logistics process chain better, and you get to know employees on site too.
How do you become a trainee and what should you expect from your trainee program?
You need to go through an application process to become a trainee. At the end of which, there is an assessment center. Then the trainee program starts. My transition was really straightforward because I had already worked as an intern at Evonik and was still a working student at the company when I applied. In spite of that, however, the decision-making process was short and it was easy to get started. I am assigned to different logistics stations for longer and shorter periods of time as part of the 18-month training program and this is so that I can get to know them better.
I am currently doing nine months in Contract Logistics in Marl, Germany, and this is the area that is responsible for logistics services at the site. Other stations in my trainee program include secondments to the Product Line Port Operations and abroad to Logistics Antwerp, Belgium, which I am really looking forward to. 
I am not only in contact with the friendly staff at the various stations, but, as a trainee, I am also in contact with other trainees from other divisions. There are currently two trainees in the logistics department, and we regularly talk to each other about our experiences and the impressions we have made at our stations.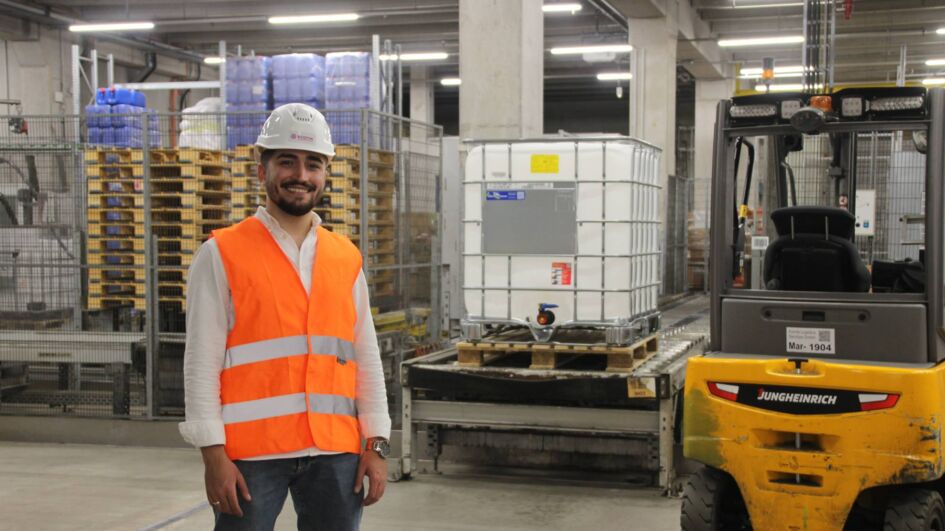 Tell us in a hundred words why you think choosing to do a trainee program is a good decision, and describe how it has benefitted your career.
I can do that in fewer words! Here are my top reasons for choosing to do a trainee program:
Flexibility – You get the chance to get a taste of a whole host of divisions before embarking on your career path
Knowledge – You gain a better understanding of how processes and departments relate to each other
Networking - You meet a lot of new people who can teach you a great deal.
Trainees are also offered a permanent role upon successful completion of the program!
Applications for the next trainee program close on 20 December 2022.