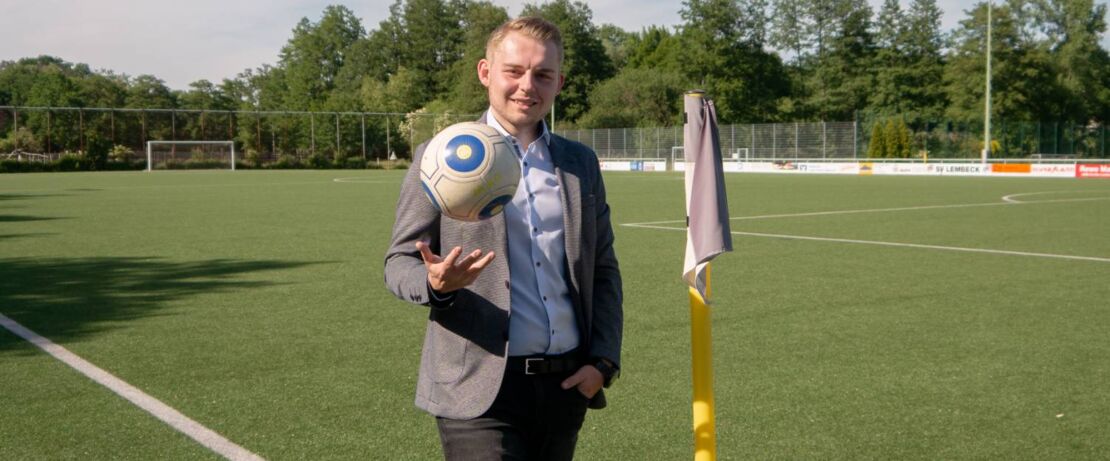 Meet the Team
July 26, 2023
Nicklas – Trainee Technology & Project Management
Nicklas completed a dual program in chemical engineering and works as a Technical Service trainee in Technology & Project Management. He shares what #PartofSomethingSpecial means to him.
What makes your position as a trainee special?
As a trainee in the area of Technology and Project Management, I have 18 months to familiarize myself with our entire range of Technical Service offerings. What's special about it is that you are not working in a silo. I'm not just learning about one project, one site or one supervisor, but the company as a whole.
Evonik offers recent graduates like me the chance to learn about new projects and tasks and meet new colleagues every three months. So not only can I expand my skills, but I can also look at problems from different perspectives. The specialized experts from Technical Service have decades of experience in the plants, and I've been able to learn a lot from them already. That knowledge transfer is an opportunity for the company to equip new employees with a wide range of knowledge and practical experience, acting as an interface for the various areas.
What makes your work at Evonik special?
During my dual-study program with Evonik, I was already able to lead my first independent project to optimize production. My manager put me in charge of two of the eight parallel production lines and placed an enormous amount of trust in me. With the successful implementation, I played a major role in making the company's production processes more efficient and sustainable. Scaling the optimization to all eight lines produced significant savings because of the high total annual tonnage.
There is a true community within the company. During my time at Evonik, I never felt like I was on my own. I was always treated as part of the team in the different departments, and there is always someone to help you when there are challenges.
The special thing about Evonik is that the group is so broadly positioned internationally, which allows for global networking. I would love to take advantage of that opportunity and help work on a service for safe plants at our hubs in Shanghai, Singapore and Mobile (AL).
What does #PartofSomethingSpecial mean for you personally?
Ever since my school days, I have been involved in volunteer work. One special highlight was my time as a youth soccer coach. I'm still an enthusiastic athlete, and I chair the City Council's Sports Committee. I care about the people around me. We never act alone, but always work as a team. Everyone has to do his part to make everything a little bit better. That's my attitude when it comes to challenges, too. Of course, things can go wrong. But we learn from our mistakes. And that's exactly why you become an engineer, i.e. a "problem solver" – so you can always find a solution to challenges.