Meet the Team
October 27, 2022
Volkan, starting as an apprentice in Marl
Volkan has been with Evonik for five years and, after his apprenticeship as a warehouse operator, has developed from warehouse and transport worker to foreman at the logistics center in Marl.  In addition, he is committed to the topics of training and further education in the works council.
Volkan, you have been with Evonik for five years – since you started, you have made great strides in terms of your professional development. Tell us more about that!
That's right, a lot has happened in the last few years! After graduating from vocational school, I started my apprenticeship as a warehouse operator. As I was training, I started to get involved in General Youth and Trainee Representation (JAV/GJAV). Two years later, I successfully completed my apprenticeship and, as a result, I was offered a permanent role at the Marl site. I was then able to gain a great deal of experience in different operational areas which has been enormously helpful to me in my current job. I first worked as a warehouse and transport worker and then as a control systems operator before being promoted to supervisor at the Logistics Centre in Marl where we supervise 20 to 30 employees and store and dispatch an incredible 23,000 pallets for customers. I am also a Training Officer for the company and am myself currently undergoing further training to become a Logistics Coordinator. Since March of this year, I have been providing support in the area of Training and Further Education for the Works Council/ General Works Council.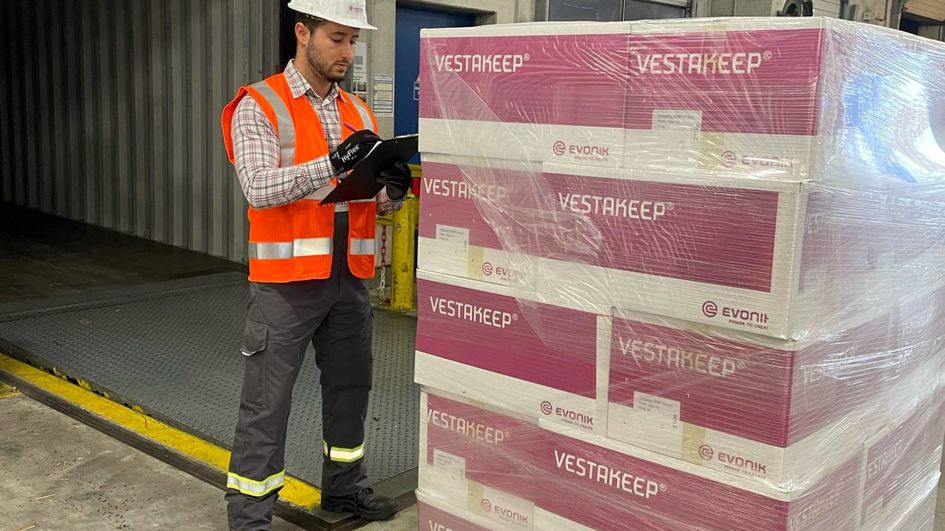 You have always gone above and beyond the remit of your actual job and are a committed advocate for your colleagues. What motivated you to do this?
I have received excellent training while at Evonik, which is a highly regarded employer both internally and externally. I got involved in training as a youth representative (JAV) with a view to making training opportunities even more attractive and to being able to have a say in how things are run. At the moment, I am on the Works Council and it is here that I specialised in the area of Training and Further Education. I feel that this is where I can really give it my all. My main motivation has been my desire to empower young people and show them that they too can serve on the Works Council and have a say on a wide variety of issues.
Your advice for new hires: What do you think trainees should bring to the table?
In light of my own personal experiences, I am able to tell each and every new hire that motivation, initiative, teamwork, and patience are among the top priorities and the key to success!